Event #7 for My One Year Blogiversary Celebration - Review with Giveaway for Scentsy with Candace Dufrene (US ONLY Ends, 01/25/13)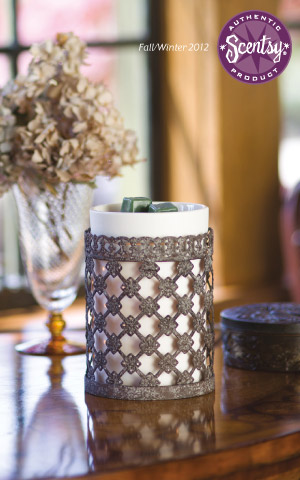 I met
Candace Dufrene Independent Scentsy Consultant
through a mutual friend and was very excited when she agreed to be a part of my blogiversary event. I have tried Scentsy before, but I had not tried their warmers. I had simply put some Scentsy bars into a glass jar and sat it on a plug in warmer...well, let me tell you - the warmer makes all the difference!
This is the beautiful warmer she gave me. Unfortunately, this specific warmer has been discontinued and is no longer available for purchase. However, all of the warmers have the same features so the design you would like for your home is up to you!
The warmer is very simple to use. I just plug it in, add pieces of whatever scent of bar I want to the tray on top and it warms them using a special light bulb inside. NO FLAMES! But yet, they smell like delicious candles!
They also make a great nightlight :) We like to light ours during nap time :) (It also helps get rid of that yucky smell from changing diapers before nap time!)
This is what the bars look like - little bricks. You can separate them easily and drop them in the warming tray! There are more than 80 scents to choose from.
Candace has been kind enough to offer a giveaway winner a warmer of their own!
This is the warmer that the winner will win!!!
Monica's Rants, Raves & Reviews is not responsible for prize shipment, nor have I received any compensation for this post.